Joe & Larissa
"THANK YOU for helping us find each other"
Upon searching for my one true love, I thought why should I limit myself to my own country? After all, maybe my soul mate lives in another country and the only way to find out was to try a website in a place I thought would be very interesting to experience. It turned out to be the best decision I ever made! I created a profile for free on BrazilCupid and was amazed about the amount of interest I received from the first day. I decided to upgrade to a Gold membership so I could send a personal email to a woman who caught my attention. Larissa responded and we exchanged a few emails until we were comfortable enough to chat via web cam. We grew close from these chats and arranged a meeting in Rio in December which turned out to be the best vacation of our lives! We enjoyed every moment together and knew our search was over having found a story book romance. From this point forward we have talked every day and quickly reunited again in March for my birthday. At this point we decided to plan our future together and announced our engagement to our families. THANK YOU for helping us find each other, and to all never stop believing your life partner may be an email away! Cheers..Joe
Rossana
"Obrigada pela ajuda BrazilCupid"
Bem no dia 03/01/2012 conheci o Jeferson, ele é de Campinas-SP. Ficamos conversando todos os dias desde então, até o dia em que ele resolveu que queria me conhecer pessoalmente. No dia 26 de janeiro ele veio ao ES me conhecer e hoje estamos namorando com planos de casamento. Estou muito feliz. Obrigada pela ajuda BrazilCupid.
Paulo
"I've found my happiness"
I've found my happiness, my soul mate, and that special person. She's the most kindest, caring, honest, kind, sweet person I ever met in my life.We're both from Australia. She's the "LUZ DA MINHA ALMA". We met on the site on 25th December 2010. After getting to know each other, we felt comfortable in meeting in person. It was like I was in a dream seeing her in person and meeting for the first time. We are happy and grateful for the time we spend together.In my eyes she's the perfect person for me.
Thank you BrazilCupid.
Miguel
"Thanks BrazilCupid"
I was looking for some one who was loyal, amorous, and beautiful but to be honest I didn't belive on dating websites then I decided to give it a try, same thing with my girlfriend Leiliane we started talking on this website and we notice we were 100% compatible. Then she invited me to meet her at Brazil it was 6 months talking. Then I decided to meet her we were 1 month together and it was the best time of my life! From all this world I never imagined that my real love was in Brazil know I see diferent. We are with plans of marring at January of 2011 and start living together in this summer of 2010. Thanks BrazilCupid for giving me the tools of finding the love of my life! Regards, Miguel and Leiliane !
Larsee
"We are very happy"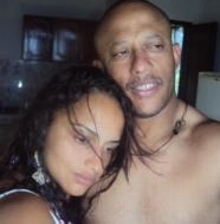 I came to this site with real hopes for finding someone very special. However I was also only going to commit a short period of time for this to occur. Well my time here came and went without a true feeling of finding that special someone. Yet something inside me told me to try again and within three days I met her. I met the most beautiful ,amazing, compassionate woman I have ever known in life. This love was swift and very intense. So much so we have married and have begun to build a life together. We are very happy and plan to grow our families together.